The Lodge of Dundee is the social and hub of the greater Dundee area and surrounds.
"The Lodge", as it is affectionately known is not only the region's main watering hole but also provides postal services, fuel, convenience items, bait & ice, and is open 7 days for meals with occasional live music, and with the sun setting right out front over the water, the view is just sensational!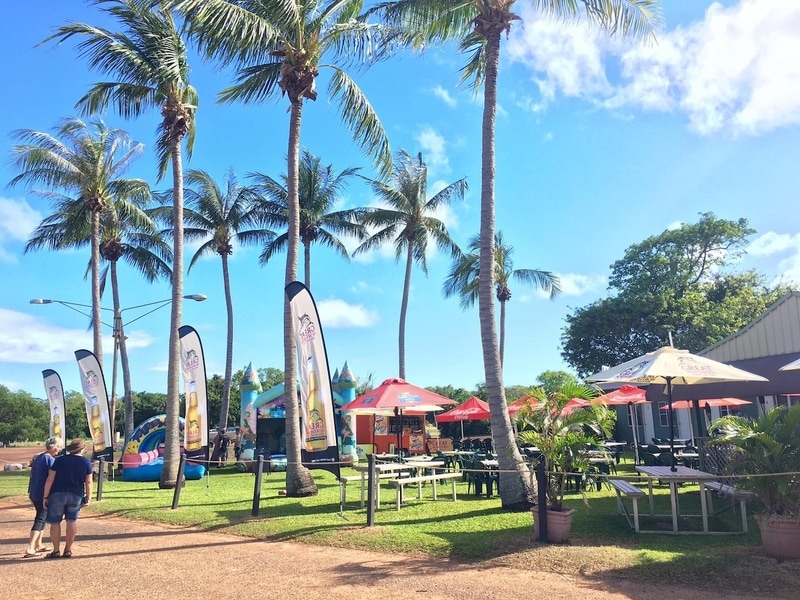 The Menu
The Lodge boasts a 7 day menu, including breakfast, lunch and dinner.
Tuesday Schnitzel Night, yummy handmade chicken & beef schnitzels with all your favourite toppings!
Wednesday T-Bone Night, where you get a delicious 300gm T-Bone served with chips, salad and a sauce PLUS a complimentary drink!
Thursday Pizza Night, when the Lodge goes Little Italy Style, with a selection of house-made pizzas and pastas that are sure to impress.
Sunday Roast Night, choose from a selection of delicious roast meats with roast vegetables, and your choice of gravy.
Happy Hour
We're always happy at the Lodge but even more so every weekday from 4pm, when we sharpen our prices on many of our icy cold products, so you can stay a little longer.
Opening Hours
So, if it's a day trip with friends and family, or a few days stay at the Dundee Beach Holiday Park, drop into the Lodge and say hi to our friendly team – you'll be glad you did.
Convenience Store/Pub:
Mon to Fri- 7am to 9pm

(alcohol service from 10am)

Sat & Sun – 6am to 9pm

(alcohol service from 9am)
Restaurant:
Lunch – 11:30 am to 2pm

Dinner – 5:30pm to 8:30pm
Contact the Lodge to book a table, or to confirm opening hours