Plan your ultimate Dundee experience!
So, whether it is a fishing charter, boat hire, Heli Tour, or a combination; we can take all the hassle out of planning your trip for you!
We are focused on giving you a quality experience and cater for small groups, families, fishing clubs and corporate groups. Dundee Beach is the ultimate way to experience adventures in the Top End!
There has never been a better time to explore our amazing backyard!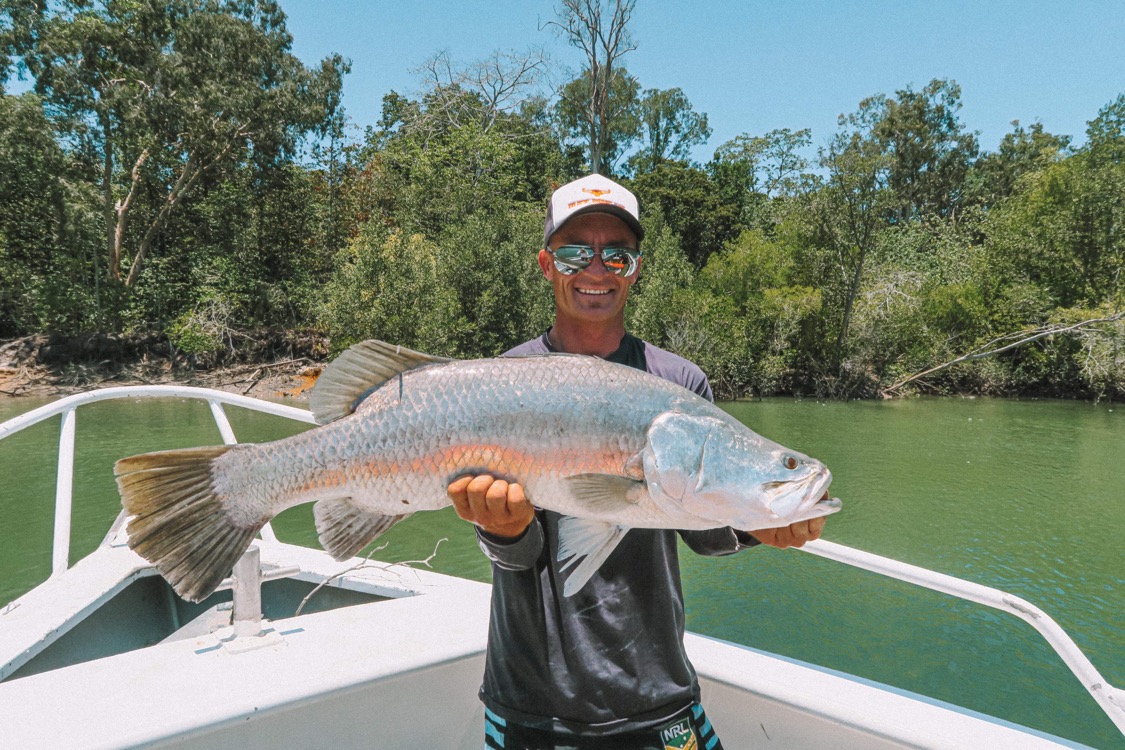 Fishing Charter
We only offer reputable full-day Fishing Charters from Dundee Beach.  We specialise in small group charters with expert local guides to ensure everyone has the best chance of catching the big fish. So, whether this is your first fishing trip, or you are a keen angler we have something for everyone! 
 Fishing Charters depart at approximately 7am, and includes quality tackle & individualised tuition, lunch, snacks, and drinks.  Dundee Beach has a huge array of fish species including the world-famous Barramundi, huge Jewfish, Golden Snapper, Cod, Red Emperor, Coral Trout, Bluebone, Nanagai and Tricky Snapper to name a few. You will head back to the boat ramp approximately 4pm where your guide will clean or fillet your catch and bag it up for you to take home! 
Boat Hire
Hire a boat with us and plan your own fishing adventure from Dundee Beach! Our hire boats take up to 6 people, are modern and well maintained.  We have extensive local fishing knowledge so can show you where and how to catch the fish you want! We hire 6M Custom Polycraft centre consoles, these are awesome boats made for fishing in rivers & creeks for Barramundi or for reef & sports fishing!
They are fitted with the reliable 175hp Honda 4 Stroke 12" Lowrance GPS with down & side-scan sonar, Lone Star drum winch for easy anchoring & VHF radios and satellite trackers for added safety.
Heli Tours
For an experience of a lifetime why not book a Heli Tour! This is the ultimate Top End experience and can customise an adventure to suit you!  We specialise in scenic tours and adventure experiences right here at Dundee Beach!
So, whether you want a six-minute buzz flight, 15-minute coastal experience (best a low tide) to see the Blue Hole (teaming with sea turtles and other marine life), and to see the Vultee Vengeance (ww11 plane wreck). 
Take a scenic flight over Litchfield National Park taking in the views of the Finniss River Wetlands and the wondrous sights of Tolmer, Wangi and Florence Falls along with the Cascades or the famous full-day Heli Pub Crawl (voted one of the Top 10 Things to Do in Darwin) strap yourself in for an awesome day of adventure in your quest to find the region's coldest beer!